More Related Stories
Fujitsu Releases "PLANTIA" for Equipment Maintenance
January 11, 2017 --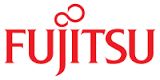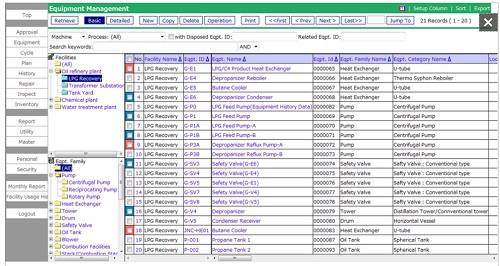 Figure 1: Equipment Ledger Management screen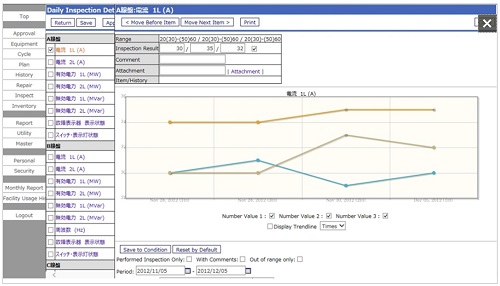 Figure 2: Routine Inspection Management graph data screen

Pricing and Availability
TOKYO, Jan 11, 2017 - (JCN Newswire) - Fujitsu will from today commence sales in Japan of FUJITSU Enterprise Application PLANTIA, an equipment maintenance management system for the manufacturing industry. PLANTIA was developed by Fujitsu Group company Fujitsu Engineering Technologies Limited(1).
PLANTIA is a solution that enables comprehensive management of maintenance work for a variety of production site equipment, such as manufacturing equipment and utility equipment. It is comprised of seven sub-systems: Equipment Ledger Management, Maintenance Cycle Management, Maintenance Plan Management, Maintenance Log Management, Repair Incident Management, Inventory Management, and Routine Inspection Management. With applications that fully leverage front-line know-how, it provides strong support for the execution of maintenance tasks. In addition, it provides support in Japanese and English for customers that are expanding globally.
Through the provision of this system, Fujitsu supports the streamlining and standardization of equipment maintenance in line with customers' digitization needs.
Background
In recent years, for companies that have multiple manufacturing facilities, it is no exaggeration to state that the stable operation of production equipment is the foundation of sound operations. In this environment, a high importance is attached to preventive maintenance to avoid various problems before they occur in production equipment.
To date, however, maintenance work has often relied on the individual skill sets and knowledge of designated maintenance staff, making it difficult to share the information and standardize work skills. Moreover, from the perspective of compliance, there is a pressing need to have production equipment and maintenance systems that are in thorough compliance with applicable regulations.
Features of PLANTIA
Fujitsu Engineering Technologies developed PLANTIA software by condensing over 35 years of experience with regard to various on-site maintenance needs, and accumulated expertise gained through deployments, operations and support at over 360 sites and 180 companies. This software, which incorporates Fujitsu's system integration expertise, will be proposed to customers as a turn-key system.
1. Interface design with an emphasis on ease of use for maintenance workers
PLANTIA features screens designed to facilitate an intuitive grasp of specifications, such as equipment operating location, types of machinery, and equipment details. This enables anyone to record, browse and search for maintenance information. Enhanced usability, including simplified data entry and browsing for on-site maintenance, for example, through support for smart devices, helps make maintenance work more efficient (Fig. 1).
2. Uses maintenance log data to support planned maintenance of production equipment
PLANTIA utilizes massive amounts of maintenance log data accumulated in a database to enable refinements to maintenance cycles and support improvements to operations. Based on past repairs and the maintenance cycle, it can generate a maintenance calendar (tally sheet), formulate implementation plans, and manage costs, providing total support for maintenance work over the medium and long terms.
3. Registers photos and diagrams to a database for visual management of maintenance work
In addition to enabling registration to a database of on-site photos, diagrams and specification documents and linking to devices, PLANTIA can also display routine inspection data in graph form to allow users to grasp conditions in real time, and is also equipped with a format to promote detailed inspections by displaying a warning on a 'To do' screen (Fig. 2). In addition, by its use of Excel data, there is a feature that enables batch registration of past inspection data or inspection data managed on an individual basis. This allows for effective utilization of data assets.
http://www.acnnewswire.com/topimg/Low_FujitsuPlantia11117Fig1.jpg
Figure 1: Equipment Ledger Management screen
http://www.acnnewswire.com/topimg/Low_FujitsuPlantia11117Fig2.jpg
Figure 2: Routine Inspection Management graph data screen
Pricing and Availability
http://www.acnnewswire.com/topimg/Low_FujitsuPlantia11117Pricing.jpg
(1) Fujitsu Engineering Technologies Limited
A systems and services integrator whose parent company had been the major engineering company JGC Corporation, the company's entire outstanding shares were purchased by Fujitsu on March 31, 2016, making it a company of the Fujitsu Group. With strengths in engineering and project management inherited from its former parent, Fujitsu Engineering Technologies is developing unique products and solutions tailored to the manufacturing industry.
About Fujitsu Ltd
Fujitsu is the leading Japanese information and communication technology (ICT) company, offering a full range of technology products, solutions, and services. Approximately 159,000 Fujitsu people support customers in more than 100 countries. We use our experience and the power of ICT to shape the future of society with our customers. Fujitsu Limited (TSE:6702; ADR:FJTSY) reported consolidated revenues of 4.7 trillion yen (US$41 billion) for the fiscal year ended March 31, 2016. For more information, please see http://www.fujitsu.com.
* Please see this press release, with images, at:
http://www.fujitsu.com/global/about/resources/news/press-releases/
Contact:
Fujitsu LimitedPublic and Investor RelationsTel: +81-3-3215-5259URL: www.fujitsu.com/global/news/contacts/
Copyright 2017 JCN Newswire. All rights reserved. www.jcnnewswire.com
Related Keywords:
TYO:6702, OTCMKTS:FJTSF, PK:FJTSY
---
Source:Copyright (c) ACNNewswire, Inc. All Rights Reserved